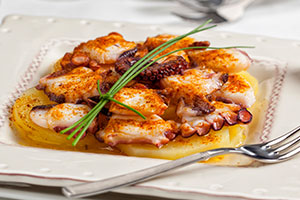 Each Party Package Includes
Soup of the Day
Regular Coffee and Tea
Guests Choose From Three Desserts – or – Special Cake for the Occasion
Appetizers May be Selected from the Following
Shrimp in Garlic Sauce
Spanish Sausage (Chorizos)
Fried Calamari
Stuffed Mushrooms
Penne a la Vodka
Chicken Croquettes
Mussels Marinera
Package #1: $32.95

15 People Minimum – Not Available on Saturdays after 4:00 PM
Note: Not Available on Saturdays after 4:00 PM

Two Appetizers:
See List Above

Choice of Entree:
• Medallions of Chicken Breast in Garlic or Mushroom Sauce
• Black Angus Sirloin Steak
• Broiled Salmon or Trout
• Paella Marinera (Seafood Combination with Saffron Rice)
• Lobster Ravioli

During Meal:
• Sangria
• House Wine by the Glass
• Sodas

Package #2: $38.00

Buffet (Private Parties with Minimum of 30 People)
Note: Not Available on Saturdays after 4:00 PM

• Fresh Salad
• Mushrooms in Garlic Sauce
• Linguini in Plum Tomato Sauce with Chicken
• Shrimp Cocktail
• Fried Calamari
• Chicken in Garlic Sauce
• Salmon Cubes in Wine Sauce
• Spanish Sausage (Chorizo)
• Penne a la Vodka
• Pork Tenderloin
• Rice with Vegetable
• Mixed Seafood with Saffron Rice

During Meal:
• Sangria
• House Wine by the Glass
• Sodas

Package #3: $36.95

15 People Minimum. Not Available on Saturdays after 4:00 PM
Note: Not Available on Saturdays after 4:00 PM

Three Appetizers:
See List Above

Choice of Entree:
• Black Angus Sirloin Steak & Lobster Tail
• Catch of the Day (Salmon or Tilapia)
• Paella Marinera (Seafood Combination with Saffron Rice)
• Chicken in Garlic or Mushroom Sauce

During Meal:
• Sangria
• House Wine
• Domestic Beer and Sodas

Package #4: $39.95

Four Appetizers:
See List Above

Family Style (Select Two):
• Mariscada
• Paella Marinera or Valenciana
• Boneless Chicken in Garlic or Mushroom Sauce
• Tips of Filet Mignon with Onions and Mushrooms

During Meal:
• Sangria
• House Wine by the Glass
• Domestic Beer
• Sodas

Package #5: $45.95

Four Appetizers:
See List Above

Choice of Entree:
• 1 1/4 lb. Lobster Stuffed with Crabmeat
• Surf & Turf (Filet Mignon & Lobster Tail)
• Paella Marinera (Seafood Combination with Saffron Rice)
• Langostinos
• Black Angus Sirloin Steak
• Salmon or Tilapia

During Meal:
• Sangria
• Chardonnay or Cabernet Sauvignon,
• Imported and Domestic Beer
• Sodas

Package #6: $54.95

Five Appetizers:
See List Above

First Main Course:
1 1/4 lb. Lobster Stuffed with Crabmeat

Second Main Course:
Guests have choice of: Beef Tenderloin, Black Angus Sirloin Steak or Fish of the Day

During Meal:
• Sangria
• Bottled Wine
• Imported and Domestic Beer
• Sodas
Terms
• Tax is 6.625% and 20% gratuity will be added to the basic package price.
• Children up to 12 years of age will be offered a choice of entree (chicken fingers, pasta with marinera sauce, fried shrimp, or mozzarella sticks), at $12.95/child.
• Private Room is a minimum of 30 guests and a maximum of 80.
• A minimum deposit of $200 is necessary to secure the reservation.
• No royalty points on private parties.