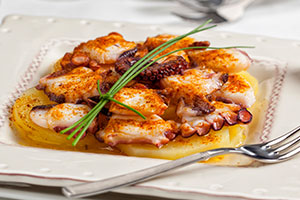 Each Party Package Includes
Soup of the Day
Regular Coffee and Tea
Guests Choose From Three Desserts – or – Special Cake for the Occasion
Private Room For 30 Guest Minimum
Appetizers May be Selected from the Following
Shrimp in Garlic Sauce
Spanish Sausage (Chorizos)
Fried Calamari
Stuffed Mushrooms
Penne a la Vodka
Chicken Croquettes
Mussels Marinera
Package #1: $32.95

15 People Minimum.
Note: Not Available on Saturdays after 4:00 PM

Two Appetizers:
See List Above

Choice of Entree:
• Medallions of Chicken Breast in Garlic or Mushroom Sauce
• Black Angus Sirloin Steak
• Broiled Salmon or Trout
• Paella Marinera (Seafood Combination with Saffron Rice)
• Lobster Ravioli

During Meal:
• Sangria
• House Wine by the Glass
• Sodas

Cappuccino & Espresso $3.00 Additional Per Person

Package #2: $38.00

Buffet (Private Parties with Minimum of 30 People)
(Food is not to take out)
Note: Not Available on Saturdays after 4:00 PM

• Fresh Salad
• Mushrooms in Garlic Sauce
• Linguini in Plum Tomato Sauce with Chicken
• Shrimp Cocktail
• Fried Calamari
• Chicken in Garlic Sauce
• Salmon Cubes in Wine Sauce
• Spanish Sausage (Chorizo)
• Penne a la Vodka
• Pork Tenderloin
• Rice with Vegetable
• Mixed Seafood with Saffron Rice

During Meal:
• Sangria
• House Wine by the Glass
• Sodas

Cappuccino & Espresso $3.00 Additional Per Person

Package #3: $36.95

15 People Minimum.
Note: Not Available on Saturdays after 4:00 PM

Three Appetizers:
See List Above

Choice of Entree:
• Black Angus Sirloin Steak & Lobster Tail
• Catch of the Day (Salmon or Tilapia)
• Paella Marinera (Seafood Combination with Saffron Rice)
• Chicken in Garlic or Mushroom Sauce

During Meal:
• Sangria
• House Wine
• Domestic Beer and Sodas

Cappuccino & Espresso $3.00 Additional Per Person

Package #4: $39.95

15 People Minimum.
Four Appetizers:
See List Above

Family Style (Select Two):
• Mariscada
• Paella Marinera or Valenciana
• Boneless Chicken in Garlic or Mushroom Sauce
• Tips of Filet Mignon with Onions and Mushrooms

During Meal:
• Sangria
• House Wine by the Glass
• Domestic Beer
• Sodas

Cappuccino & Espresso $3.00 Additional Per Person

Package #5: $45.95

15 People Minimum.
Four Appetizers:
See List Above

Choice of Entree:
• 1 1/4 lb. Lobster Stuffed with Crabmeat
• Surf & Turf (Filet Mignon & Lobster Tail)
• Paella Marinera (Seafood Combination with Saffron Rice)
• Langostinos
• Black Angus Sirloin Steak
• Salmon or Tilapia
• Chicken in Garlic or Mushroom Sauce

During Meal:
• Sangria
• Chardonnay or Cabernet Sauvignon,
• Imported and Domestic Beer
• Sodas

Cappuccino & Espresso $3.00 Additional Per Person

Package #6: $54.95

15 People Minimum.
Five Appetizers:
See List Above

First Main Course:
1 1/4 lb. Lobster Stuffed with Crabmeat

Second Main Course:
Guests have choice of: Beef Tenderloin, Black Angus Sirloin Steak or Fish of the Day

During Meal:
• Sangria
• Bottled Wine
• Imported and Domestic Beer
• Sodas

Cappuccino & Espresso $3.00 Additional Per Person
Premium Open Bar ($30 Per Person)
• Selection of Fine Wines & Liquors
• Domestic & Imported Beers
• Assorted Beverages
Terms
• A deposit of $200 has been paid by the customer to hold a reservation and will be applied to the final balance or total cost of the event.
• New Jersey sales tax of 6.625% will be applied to all taxable items and 20% gratuity will be added to the invoice.
• All the food and beverage must be consumed on the premises. Left over Spanish Tavern food from no shows guest can not be boxed and taken home.
• Absolutely NO ALCOHOLIC BEVERAGES may be brought unto the premises.
• Payment can be made by cash, certified check, debit or credit card. We accept all major credit cards. Spanish Tavern of Mountainside gift cards are not accepted as payment for private parties.
• The customer guarantees that the number of guests is accurate and will inform to Spanish Tavern of any changes with sufficient time to set up accordingly.
• In case of cancellation, all deposits will be refunded in full with a minimum of 30 days advance notice. Deposits for cancellation received less than 30 days prior to the date of the event will not be refunded, and cannot be applied to future parties.
• Spanish Tavern requires ONE WEEK advance GUARANTEE and CONFIRMATION of the number of guests in your party otherwise the final bill will be calculated according to the number of guest stipulated on the contract.
• Children up to 10 years of age will be offered a choice of entree (chicken fingers, pasta with marinara sauce, fried shrimp, or mozzarella sticks), at $12.95/child.
• Private Room is a minimum of 30 guests and a maximum of 80.
• No royalty points on private parties.
• $400 To Rent Private Room For Parties Of Less Than 30 Guests
• $65 For Screen Projector Rental